Pingyao
is located around 8h Southwest from
Datong
, I'd guess 400-500 km. Different from the other cities I visisted we would be talking about millions of people,
Pingyao
was kept small and its popullation in the historical part is around 50,000, without difficulties to find tourist attractions or services aimed towards tourists. Thus it's a touristically relevant place even though I imagine that the majority of the tourist packages would get restricted to Chinese big cities.
Pingyao
is accounted as one of the most preserved historical cities in the world being more than 2,500 years old and therefore listed as an UNESCO heritage place. Besides that, its famous protection walls are also in good state.
Pingyao
was the Chinese financial center for most part of history however getting into collapse after 1914 due to modern banking competition. Anyway, many structures, houses, courtyards, etc., still reflect families and business relative importance during that time.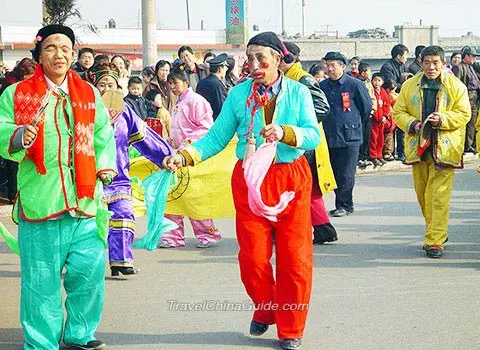 Pingyao's map
Around Pingyao
I arrived there by 6 am, coming by train, from
Datong
. I almost didn't sleep during the night, freezing in the A/C, and thus I was very sleepy. My first challenge was to find my hostel,
Yamen Hostel
, in historical downtown and which cost me 35 RMB/night. When I got there however there was a tour starting at 8 am to visit some touristic places in the region. For 80 RMB for the transportation I joined.
It's worth saying that the 2 days I decided to spend in the city were extremely rainy, making it difficult to go around. In the van I met some Chinese university students and a Spanish couple. It was funny that me and the Spaniards were talking about some funny things that happened with us in China thinking that nobody could understand us untill one of the Chinese girls started to laugh. For the whole tour they helped us every time spoken Chinese was required.
Wang Family Compound
Wang family complex started to be built around 1600 and going through many extensions represents the success of this family in industries going from farming to commerce and government officials. Today the complex looks like a castle with more than 1,000 room and 54 courtyards. However, it's the kind of place that requires some preparation before getting in. It's very easy to get lost inside and after some 3 courtyards things may looke like "the same".
The view to the roofs
One of the courtyards
Complex faced from the front side
Something that may be interesting to mention, the worse toilets I EVER SEEN in my whole life were in this part of China. Therefore, plan yourself ahead to avoid visiting it too much. At some places the toilet was basically a wooden made base with an unregular hole inside where everything gets mixed (and stays), lots of flies and other insects.
Zhang Bi Old Castle
This castle itself it's not a great attraction but its wide complex system of tunnel reaching almost 1.5 km in 3 levels that were used for refugees during Imperial China and Civil War time. It looks like claustrophobic but you shouldn't worry about because the tunnels are well lit and the paths are signed. The temperature drops significantly as you walk in.
At that time of the day it rained a lot! Around the castle there were lots of water flowing down and since the paths were made of dirt, it got really muddy.
Shuanglin Temple
This was one of the most different Buddhist temples I ever seen - maybe the picture states that. Its construction comes back 1,500 years ago and now offers a collection of 2,000 sculptures of warriors, gods, Buddhads, etc. The color of the statues was noticeable but unfortunately most of it are protected by thick iron bars that did not allow good pictures.
Pingyao, in fact
One of Pingyao's major streets and
the commerce tower
The most traditional way to visit
Pingyao
would probably be to pay the 120 RMB general 3-day entrance fee that includes many historical sights, museums and the walls. I would have done that if I haven't had just 1 day left to know the city, it didn't cost that amount and it wasn't raining and, especially, I wasn't fed up with museums. I didn't expect to be that fast but I got
"museumsick"
pretty fast in China.
Although a little bit later, I met
David
and
Vinciane
again in the next morning. They would spend a whole day in
Pingyao
and so we decided to explore it together. Since the city itself is a big openned museum we decided to walk around the streets, try some food, etc.
One of the coolest places to visit (in my opinion) and it costs only 5 RMB/person is the tower of commerce, which is in one of
Pingyao's
main streets. It's almost a cinematographic tour since, everywhere you look at, you'll be looking at a China of hundreds of years ago. One of the examples, it's the guarding tower in the wall at the end of the street and in the right side, the old traditional roofs.
We kept walking around and tried to climb the walls, however to do that we would have to buy the mutiple 3-day ticket and since we had just some spare hours to spend we decided that it wasn't worth it. We ended up trying a very good local restaurant which I can't remember the name and treated ourselves with some Chinese snacks and Tsingtao!
David, Vinciane and me
Next post is going to be about
Xi'An
, a former capital and the first point of contact between China and the West.