Intro
Xi'An it's a 3,000 year old city which saw 13 dynasties and 73 different emperors to rule over ancient China. And thus it won't take too long until the first time traveler to notice some similarities among Xi'An and Beijing. The historical part of the city was designed in a squared manner, protected by huge and well preserved walls. There are wide green boulevards, for no doubts some nice memories to a nice metropolis.
Besides that, Xi'An represents the start (or the end) of the ancient Silk Road which for many many years was the only possible connection between Europe and Asia, until the Europeans started to "discover" the world in the 15th century. Therefore, Xi'An is different. May be due its accent, totally different from Beijing, or maybe it's the food and the arts, with a strong islamic influence. That mix and some other monuments around Xi'An, in my opinion, make it a real must go stop in China.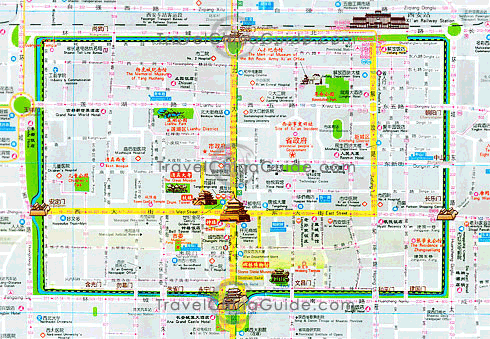 Xi'An Map
The Walls
I had just arrived from Pingyao, which was literally under rain, the sun came high in Xi'An and the visual forecast of good weather made me to delay any rest. As fast as I could I looked for my host in town, Sheila, who I left my stuff with, had a good breakfast and started another 'walking a lot' day. The first place to visit was quite obvious, The Walls of Xi'An, the biggest urban wall of the world.
View from the Wall
For 40 RMB (20 RMB if you're student) you can climb the wall and walk around it as much as you want. You can even rent a bicycle to make it faster and more exciting. Since I was due to my low cost scheme and it was quite early that day, I decided to walk almost half of the +13 km path.
Xi'An Avenue seen from the Wall
I started my tour over the Wall through the Northern side and planned to finish it as I reached the directly opposite gate in the Southern side. The thing is that in the Southern side there are many gates, which makes you a little bit confused whether you have reached the right one or not. Before I get lost I asked for help from an "apparently, Chinese university student", who was walking in the same direction. Even though his English wasn't that good, we could comunicate and then we became friends during my stay in
Xi'An. Shao
was a Civil Engineering student and was born in
Chongqing
, Southwest China, this time on vacations in
Xi'An
. Many of the monuments/museums I'd like to visit were also on his list so we decided to explore it together.
Forest of Steles
Image of a Chinese symbol
written in the stone
The former version of what would be called as paper in ancient China were stones, in fact, whole blocks of it in which Chinese manuscripts. In
Xi'An
, especially for those who can understand Chinese, there's a huge museum with 2,300 samples since 7th century which present the Chinese classical texts and other historical aspects. The cost is 90 RMB/person, if I'm not wrong, and I'd recommend, again, only to those who can clearly understand Chinese or those who had done some previous research about the subject since the visit can get really boring if done in a superficial manner.
Food
Lunching w/ Shao Xi'An
style noodles and lots of spices
With no doubts
Xi'An
has a very rich gastronomy. Hundreds of years of exchange between Islamic and Chinese culture have given birth to a wide sort of different dishes and combinations. I'd say that the best way to take advantage of that would be to avoid riskless options - and no taste - like KFC, McDonald's, etc., easily found at major avenues and take a chance at small stalls, alleys, and small restaurants in which, to get started, the communication will be a first challenge. The
look and point
method is by far effective and perfectly combines with the
calculator pricing
method. Thus you can taste local food even not knowing Chinese. Fortunately this task was even easier for me since
Shao
obviously could speak Chinese and so he did take care of our menu.
Big Goose Pagoda
View of the city from Big Goose Pagoda
For sure one of the most visited parts of
Xi'An
are the surroundings of the
Big Goose Pagoda
. Built in the year 652 it's one of the city symbols. Arround there are many temples and parks. There's a 50 RMB cost to get into the complex and more 40 RMB to climb the stairs up. Although it can be a tiring climb and you won't get to the top - it's being refurbished - it's really worth it. As many other places in China,
Xi'An
can be very beautiful from the top. A typical Chinese phenomenon it's the impressive number of buildings being erected in the horizon.
View of the Big Goose Pagoda from below
Muslim Quarter
This is the real charm of Xi'An, where suddenly the Middle-East finds China. A very busy street with tourists, hawkers, food stalls, etc., which starts just after the Drum Tower, in Xi'An's center. Shops and more shops selling T-shirts, decoration stuff, dry fruits, foods I haven't found anywhere else in China and a marvelous 2 RMB/glass plum juice avaialable at every corner. Curiously I forgot to take pictures of that area, but certainly it's a must see for any tourist in town.
The Great Mosque
Porch with Arab writings
at The Great Mosque
From the outside - and even for most of its inner part - this mosque smoothly and insinuatingly deceive you. After having a hard time to find it through Muslim Quarter's narrow street you may think that's just another Buddhist temple. Going through some courtyards, only at the end, then you'll finally find some Arab inscripts - yes, Arab - which reveal one of China's most important mosques. There's room for a 1,000 people praying in the last pavillion. The entrance tickets cost 25 RMB/person.
Xi'An at night
As in other Chinese cities some monuments get really charming at night when they get special lightinh, thus it's worth to see and even wait in the streets until late to check this different scenario.
Drum Tower picture
Pingmayo seen from close
This is ranked as one of the finest tourist attractions, not just about China, but from the whole world. Who has never heard about the Chinese Terracotta warriors, each one unique made, and burried together with the emperor? So famous attractions has also its negative aspects: i) very expensive (150 RMB/person, they do accept student IDs); ii) generates too high expectations; iii) in summer there's a herd of people who come from all over China and the world; iv) different from the The Great Wall which has thousands of kilometers with different levels of difficulty which naturally puts people away, the soldiers are all located in a very small area. The result it's that you may keep at your mind more of the heat and "canned sardines" feeling rather a humankind masterpiece.
The archeologic site it's a bit far from the city and the cheapest way to get there is by bus. At Xi'An's train station right you'll find bus #6. There'll probably be some people shouting "Pingmayo" which means soldier/army and it's the popular way Chinese refer to this monument.
The most impressive pavillion is #1 and which is quite clear why. Its dimensions are huge and even though the soldiers are not that big and not easily seen at a distance there's a significant number of them. The other pavillions could be a little frustrating when compared to #1. Therefore, in a valuable tip, Lonely Planet recommends you to start from #3, then #2, and, finally, #1.


Picture of Pavillion #1
The sculptures represent soldiers and horses, in a very detailed level. These were made in 3 BC and found accidentally only in 1974. Putting all the archeologic pavillions together there are 8,000 soldiers, 130 carriages, 520 horses and 150 battle horses.
Aligned soldiers
Besides the unquestionable artistic value in place, one finding caught my attention for being ahead of its time. There were found many weapons and armor pieces in excellent state of conservation. Even after 2,500 years thse items were intact to corrosion because it had undergone chrome process. Such technology became available in the Western world only in the 18th century.
My Couchsurfing host, Shirley
Shirley and
her pictures of Cambodia
Xi'An
was a especially difficult city to find a
host
. For its size it had just a few CS members and even from this small portion was getting difficult to get an answer. Then
Shirley
saw my request and without asking her she invited me to stay at ther apartment. We had a very nice interaction and she presented me to some local food. For coincidence she had already been to Cambodia some time before, which was her first international experience. I saw how important
Couchsurfers
are for her life. The answer is: A LOT!
Shirley
plans to travel the world and change her life. For that she's been hosting almost every week CSers from different countries. One of your basic conversations was introducing her to Brazil, our cultural aspects, natural attractions, etc. Good Luck
Shirley!
I hope you get your dreams realized! :)
I hope you liked to know a little bit more about
Xi'An
. Next stop will be in a totally different course, now heading East to the Chinese coast. Next stop:
Nanjing!