Intro
Nanjing is commonly known as Nanking outside China and its name means Southern Capital, opposite to Beijing which means Northern Capital. Many dynasties also set up here through Chinese history and, recently, it was China's Republic capital from 1927 to 1949, when its members were expelled to Taiwan.
Nanjing has 5 million people and marks a change in my trip. So far I had been through some ancient and traditional China. From Nanjing on, however temples and Chinese habits were still coming up, this traditional figure of China started to be replaced by modern China. This is the Chinese part where changes went faster and earlier due to Den Xiaping - the father of the Chinese development model - economic liberalization reforms. Therefore, here I found a great number of bullet trains, skyscrapers, rich Chinese, luxury, etc. Food and accommodation prices, in a general impression, went up and the train stations changed radically. Now the communist-soviet grey block style was being replaced by the extremely modern design, almost like airports.
Although I could have found more of this megalomaniac stuff from Nanjing, my experience was marked by lots of green (and rain) in a very familiar environment. Transportation within Nanjing was quite easy. There's an extensive - although not as in Beijing - subway network combined with regular buses. In general the touristic spots will have signs and maps written in Chinese and English.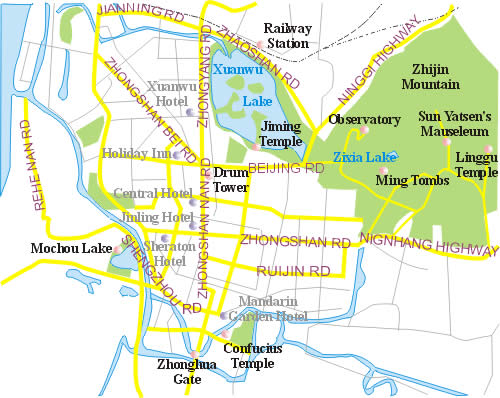 Map of Nanjing
Traveling/Arrival - One more story about how the Chinese are friendly and helpful...
My departure from Xi'An was a real challenge. Between Xi'An and Nanjing there's "just" 1.077 km in an almost straight line. Booking a train ticket can be almost impossible, especially during weekends. In fact, I wasn't able to secure that booking. All the few trains that cover this leg were sold out or had just luxury seats available - 7 to 8x more expensive. Loose the itinerary or flying? Things would be harder if Shirley (yes, my host from the previous post) didn't have some hot contacts with the bus company that serves this route. She arranged me a sleeper bus ticket exactly as I needed for my schedule and even with a discount, just 150 RMB. Besides, she even took me to the bus station and certified herself that I was in the right bus and that the drivers knew that I was foreigner who could not speak Chinese.

During the night I went some curious experiences. I had never traveled in a sleeper bus before and I realized I wasn't missing that much. For start, I was scaried that my stuff could be robbed so I carried all with me in my bed. Bad decision. The bed was so tiny and just that would be enough to make my night as uncomfortable as it was. The second thing was that sleeping was even more difficult with the horrible foot odor - minimized due to the driver's initiative of spraying the smelly feet owners before packing it plastic bags! - and some nearby people snoring - I tried to throw pillows, poke them, etc., but didn't work. Anyway, I got to Nanjing as planned at 6 am.
In the bus I had briefly spoken to a man that was seating in the bed next to mine. He couldn't speak English very well, just a few comprehensible words and most of our conversation went through with iPad's help and my passport's stamps. I tried to find out if there was a subway station close to Nanjing's bus station. I finally found out that he was offering himself to guide me until the subway. Ok.

As I got there and started to unload my stuff, backpack and so on, he asked me to follow him. I did. We walked around 15 min until we found a subway stairway. The station had nothing different from other parts of China - including the machines to buy tickets. Still, he changed 10 RMB in coins for me and wouldn't allow me to pay him back.

Finding Beppie & Gert's house
In Nanjing I also had planned to couchsurf. And it was an awesome and unforgetable experience. It wasn't that easy to find their house but was totally worth it!
Little & Big Gert, Aletta and Beppie
I was on the road for more than 2 weeks, dealing with all the difficulties of traveling in China - something very scary at the beginning. Soon, being part of this family for 3 days was a relief. Breakfast, dinner and sometimes even lunch, in family style - Beppie, Little Gert and Aletta. Lots of laughs and lots of stories. They're an expat family from South Africa, speak English and Dutch and have been traveling through 27 different countries, hosting and being hosted many times. I was so happy to be able to interact with so experienced people having lots of fun and remembering what cheese, milk, pancakes and lasagna were. :)
Nanjing's area I was being hosted
Big Gert, Beppie's husband, is an automotive engineer and he was expatriated from South Africa 6 years ago. Little Gert and Alleta were small kids at the time they came to China. It's always interesting to talk to people who have been living in emerging regions for many years. According to Beppie, arround their neighborhood there was nothing but farms 6 years ago.
Xuanwu Lake
This is one of the main lakes of Nanjing, with 444 hectare and 15 km in circle, so huge. It was one of my first tours in the city. Around the like there's also the remnants of the wall that used to protect Nanjing from invaders.
Picture of Xuanwu Lake
The legend says that a dark dragon was seen inside the lake and according to Chinese Taoists that should be a water protection god, thus was given its name to the lake, Xuanwu.
Nanjing Memorial Massacre
One of the signs in the Memorial
In 2nd WW context Japan dominated most of East Asia, including China. In 1937, Nanjing was captured by Japanese forces. The Nanjing Massacre is also known as Nanjing's Rape and was a period of 6 weeks where 240 to 300 thousand civilians and disarmed soldiers were killed. This episode was denied by Japan many times in history, maybe, because one of the commanders was the prince Asaka and the massacre itself was commited under the orders of emperor Hirohito. Anyway, the incident remains alive in people's minds and it's one of the causes for the conflictual Sino-Japanese relations. For example, the popular anger about the sovereignity of Pacific Ocean islands probably already started from a bad and frayed image of Japan among Chinese people.
Image of the stacked bodies during the Massacre
The museum has thousands of testimonials in Chinese and English of people who have survived, international correspondents, exapatriates, etc., who saw the carnage that happened at that time. My impression is that the museum fails to create a peace, forggiving and regret feeling instead of hate, revange and anger against the Japanese. Anyway, I believe that it should be like the experience of visiting Auschwitz in Poland and must be part of the tourist's agenda in Nanjing.
PURPLE MOUNTAIN
This is a complex of parks, cultural areas and touristic attractions all located in a 447m peak mountain in Nanjing. Usually you can purchase the through ticket for all the attractions for 100 RMB. However, walking all over it in just 1 day may be a challenge. I got exhausted after that and I didn't even walked the whole thing - the rainy werather for example made unnecessary to visit the top of the mountain or the observatory.
Ming Xiaoling Mausoleum
Entrance gate to the mausoleum
The Ming dynasty had the tradition of burrying their members in huge mausoleums scattered around China. This mausoleum thus was built to emperor Hongwu, who died in 1381. The original walls of the mausoleum had more than 22 km of extension and were needed 100,000 workers to build it.
Ming Mausoleum
The mausoleum it's more interesting because of its exterior architectural grandeur rather than its interior. After getting through the tunnel, there's a ramp until you reach the walls level. There you can see a small shop and some minor exibition.
Dr. Sun Yat-Sen Mausoleum
Dr.
Sun Yat-Sen
was born in 1866 and died in 1925. He was known as one of the fathers of modern China due to his fight against the emperial government of dynasty
Qing
, which was overthrown in 1911 to the creation of the Republic of China.
Stairway to the mausoleum
The mausoleum was finished in 1929 and it was build after a design competition in which the total cost of the winning proposal could not exceed 300,000 RMB. The mausoleum can be accessed through a stairway of linear 450 m and 392 steps. The Republic of China was founded by members of the Kuonmintang party which later would be expelled to Taiwan by the comunists. However, as strange as it is the ceiling of the mausoleum was left untouched by the Cultural Revolution, and it's painted as Taiwan's flag.
View of the stairway from the mausoleum
If all those people were there in a rainy day, imagine in sunny day? From everywhere Chinese tourist groups and their guides - with loud speakers and flags - came. All that crowd should not be seen as a negative aspect while traveling in China but faced as a real experience of traveling in China, as, in fact, we're talking about the most populous country in the world, right?
Wuliang Hall
Wuliang Hall picture
Also known as Beamless Hall, it was built in 1381 and it's 22 m long and 53 m wide. In its construction were used just bricks from the ground to the ceiling without any nail or beam.
Linggu Pagoda
Linggu Pagoda picture
Linggu Pagoda was built in 1929 as a memorial for soldiers who died in the Northern Expeditionary War fought between 1926 and 1928 with the purpose to unify China under Kuonmintang's command. The Pagoda has 9 stores and it's 60.5 m high. You can climb all the way up and have a view - even if not that clear due to clouds or rain - very interesting of most of Purple Mountain's foot.
To find the Pagoda easily, go through Linggu Temple interior and follow the middle-track.
Before leacing Nanjing I still spent some time in a smaller park, near my host neighborhood. However I didn't find the name in the internet. Anyway, when I went to buy train tickets to Suzhou, I was lucky and found a teller who could speak English. To make my life easier I bought not just the ticket to Suzhou but from Suzhou to Shanghai too.
Nanjing
was a revigorating and nice experience. I recharged my energies to keep going. Next stop will be
"the garden capital of China", Suzhou
. And, a detail, this journey will be done in a bullet train, at 240 km/h. See you soon! :)